We Love Realtors
Realtors make our world go round. That's why we want you to have access to everything you need to share St. Kitts with your clients. Sign up for our agent email list to be among the first to know what's going on at St. Kitts. Download unbranded files to share with your clients. Take advantage of our co-broker online marketing tool (see below for details). Or, call our onsite agent directly if you have any questions about St. Kitts, current promotions or happenings.
Download Unbranded Marketing Materials
Click the links below to download unbranded materials to share with your clients. Download the pdf below, open with Adobe Acrobat and add your personal contact information and bio in the editable (blue) fields.
Agent Only Newsletter
Sign up for our agent email newsletter to be among the first to know what's going on at St. Kitts. Receive news, special promotions and always know what units are available. If you sign up for this email list, you will be able to remove our contact information and forward the emails onto your clients with your personal email signature.
Contact Our Onsite Agent
James Adduci
404-259-8333
James@StKittsCondo.com
Co-Broker Marketing Tool from St. Kitts
Free service for agents & brokers!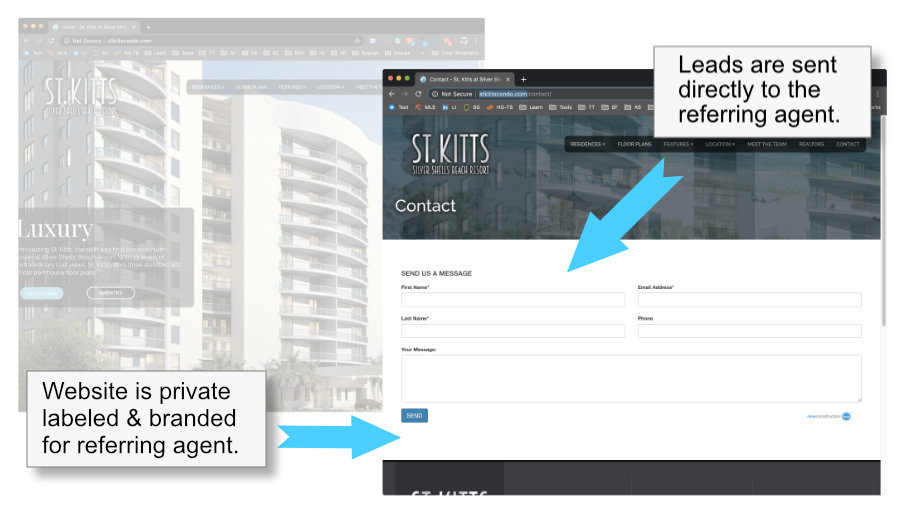 Real estate agents and Brokers, we want to help you to promote our new homes and communities while giving you 100% control over your clients. The StKittsCondo.com website uses a patented technology from Agent Shield to create your own white-labeled version of our website. Our website, your brand.
How does the white labeling technology work?

Get started today!
To get started, click on the "For Agents" button below. A window will pop up. Sign in or create your FREE account.